PERSONAL SERVICE. ABSOLUTELY.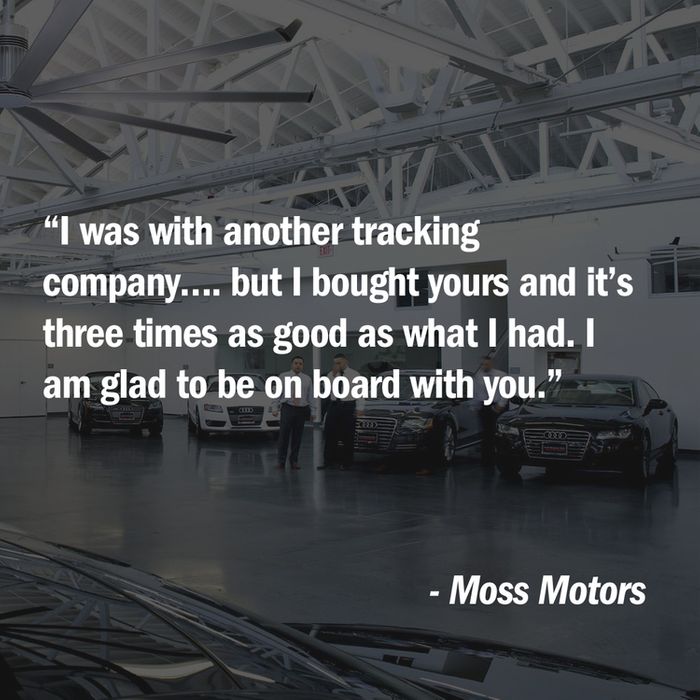 ADVANCED TECHNOLOGY & SECURITY
BHPH/LENDER: TRAINING VIDEOS
Dealer Application Terms
Dashboard: the main viewing platform contains a list of your vehicles and has interactive graphs of vehicle status.
Top Stops: shows the top locations where each vehicle has been parked.
Heartbeats: show the history of the 4-hour heartbeats from the devices.
Recovery: allows you to put devices in "recovery mode" and share the information with recipients.
Alerts: shows the history of "alerts" sent out.
Zones: can be created and edited to report when vehicles Enter or Exit specific areas.
SID: controls "starter interrupt devices" (only when an SID has been installed).
Low Battery Alerts: allows you to create and edit "alerts" for the vehicle voltage at a level you select.
Recipients: allows you to enter "recipients" who can receive "alert and recovery" information.
Users: allows "master user" to create and edit other "users".
User History: shows the history of activity on you account.
The "dispatch page" provides a quick way to see all your drivers on a map, and determine the best one to send out to a new address.
The drop-down menu provides many different kinds of reports:
Select the way you'd like the report to be organized: Driver or Vehicle.

Select the appropriate group of vehicles or drivers for Report A.

Select the "start and stop" dates for the information. Both full days will be included in the report contents.

The "Get Report Now" button will generate reports that can be created as a PDF for emailing or printing and CSV reports can be generated for spreadsheet use.
By clicking any one checkbox to the left of a listed device/vehicle, you may edit/add any associated information.

Once you have clicked on the checkbox, the Edit button will turn from grey to black indicating that you may edit.

Click on the Edit button to start editing.

Note that if you have accidentally clicked on two or more checkboxes, the Edit button will appear as grey and not be functional.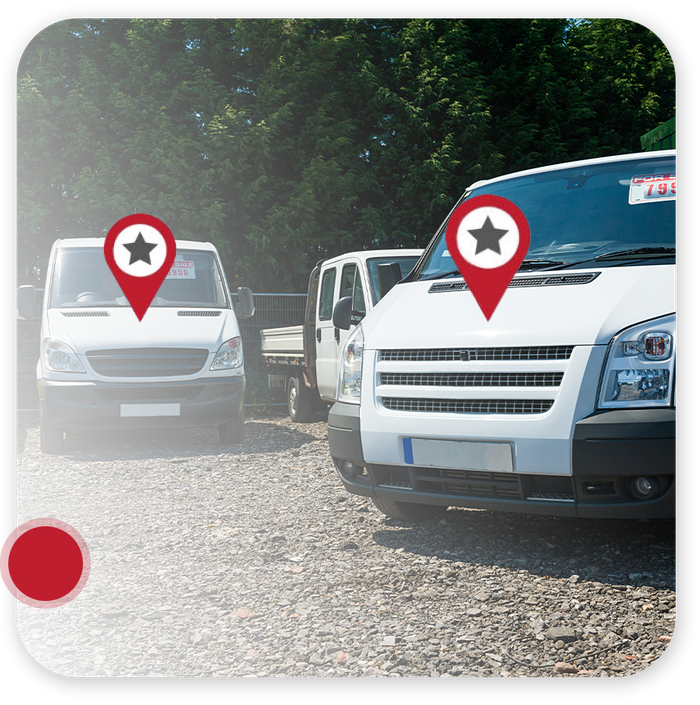 FREQUENTLY ASKED QUESTIONS (SUPPORT):

HOW DO I LOGIN TO MY DASHBOARD?
You will be sent a link that will take you to a login page that allows you to create your own user name and password. Be sure to select the check box for "master user" so that you will be able to add other users. NOTE: The link is only valid for 24 hours for security.

HOW CAN I LEARN TO USE THE UI TO MANAGE MY VEHICLES?
When you login your user interface at www.lowstarservices.com with your user name and password you will see the dashboard Help page with a list of functions on the left side. On the dashboard page and on each function page you will notice a "help" button at the top. By selecting "help" a pop up screen will be displayed with instruction and information for that function. There are numerous training videos to help you navigate the site. Simply select the link to go to the training video for that function.

HOW DO I INSTALL THE DEVICE
Installation of the device is straight forward (Red and Black wires) – other wires are NOT required unless you are also installing the SID cable for "Starter Interrupt Disable" – then – only the green wire is needed. An experienced installer should not have any difficulty. The installation guide is available for download from the "Help" button on the dashboard

WHY IS THERE AN ADDRESS RANGE DISPLAYED?
When trying to locate a vehicle the address from "heartbeats" may display a range eg. 822-832 Oak Lane. We use Google maps (generally recognized as the industry standard) to convert GPS data to specific addresses. When a vehicle is parked on a street or in a parking lot the data returned for that specific location could be associated with numerous addresses, hence the range. However, it is important to note that the MAP location is precise – while the address may show a range, the marker on the map is accurate

WHY DO I SEE AN OFFLINE STATUS?
There are two conditions that create "offline" status: 1) loss of power and 2) loss of cellular coverage. When either of these conditions occur we update status on the customer dashboard for that vehicle as "offline" if it has been more than 15 minutes while moving or 9 hours while stopped. NOTE: When this happens "top stops" and "heartbeats" continue to be collected because the GPS momentarily awakens and when the vehicle moves back into cellular coverage this data is updated and maintained for their device.

WHY DOES THE DEVICE SHOW LIGHTING BOLT ICON?
Devices also show a lightning bolt icon if they are experiencing unexpected conditions. Moving your mouse over the icon will explain the condition. The GPS signal is weak. This condition may occur when the vehicle is parked under cover, or if the satellite signal to the device is blocked by metal in the vehicle. This does not necessarily mean that that the vehicle location will be inaccurate but that you should be aware that it may not be correct. Intermittent Power – The device has seen at least 2 power interruptions in the past 24 hours. This may be caused by an unreliable wire connection.
FREQUENTLY ASKED QUESTIONS (SALES):

CAN I VIEW MY VEHICLES FROM ANY INTERNET ENABLED PC?
Yes, you can as long as it is connected to the Internet! Of course it is worth noting that the faster the connection speed, the faster our software will run. So, for example, broadband will be much faster than a dial-up connection.

CAN I VIEW MY VEHICLES AND THE REPORTS FROM MY PHONE?
Yes, our software can be accessed from any internet-enabled mobile phone or tablet device.

WILL I RECEIVE FREE UPGRADES?
Yes! Since our software is web-based you don't have to worry about CDs and installing upgrades, they appear when you login.

IS THERE AN ANNUAL WEB ACCESS CHARGE?
Yes, there are no hidden charges with LowStar GPS tracking!

ARE THERE ANNUAL SOFTWARE COSTS?
No, our monthly price incorporates everything!

IS THERE A VISIBLE ANTENNA ON THE VEHICLE?
No, the vehicle-tracking unit is installed in a discreet, inaccessible location and all of the antennas are internal to the device.

ARE THERE ADDITIONAL NETWORKING COSTS?
No, our representatives issue an 'all-in' quotation.

IS THERE AN ANNUAL WEB ACCESS CHARGE?
No, the only web access charge you pay is to your Internet provider.

WHAT IS TELEMATICS?
Simply put, telematics is the merging of the two worlds of telecommunications and informatics.

IS THE SYSTEM GPS BASED?
Yes, vehicle locations and times are pinpointed from the Global Position System satellites and relayed to our data centers over the GPRS network in real time.

DOES YOUR TRACKING SYSTEM RUN IN REAL TIME?
Yes, moving vehicles can report to us frequently, and these positions are automatically reflected in our features.

IS THIS A SATELLITE-BASED VEHICLE TRACKING SYSTEM?
Yes, meaning the tracking unit is located by Satellite and sends the information to our servers via the GPS Data Network.
INTERESTED IN OUR PRODUCT?